DIY New Years Eve Party Hats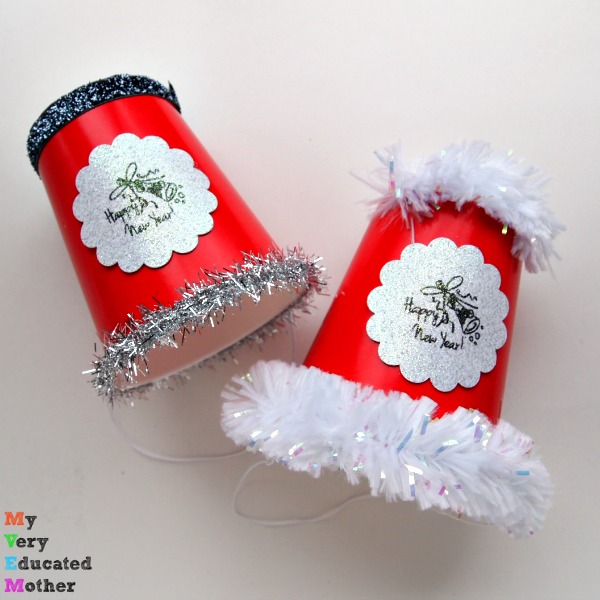 Make these DIY New Years Eve Party Hats for all your guests or set up the materials and let them make their own. There is a lot of time between dinner and  midnight and a creative craft is a great way to fill the time.
Trivia: New Year's Eve festivities can be traced back to celebrations in Europe that date back before Christianity spread. When many inhabitants in Europe were converted to Christianity, these festivals were merged with Christian beliefs and in time came to mark holidays such as the New Year's Eve and New Year celebrations. Source: TimeandDate.com – New Year's Eve
Supplies
Paper cups
Elastic thread
Hot glue gun
Hole punch
PSA Stamps and Stamper
Glitter paper
Embellishments – We used pipe cleaners, ribbons, washi tape, and tulle.Instructions
Instructions
To begin I used a PSA Stamper and Peel & Stick Stamps to create the glitter paper scalloped circles pictured below.
Next, I used the hole punch and elastic thread to create straps for our hats.
Personalize your party hats by adding embellishments, the shinier the better!
Young and old can participate in this activity. Be creative and start the New Year with a fun topper.
Other Images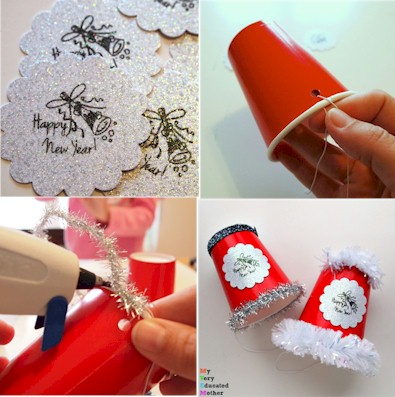 Contributor

My Very Educated Mother
Erin Sipes is a writer, crafter, and homeschooling mother of (soon-to-be) four based in rural Missouri. She is also the voice behind My Very Educated Mother, a blog dedicated to advocating the benefits of a creative home by sharing kids crafts and family-friendly recipes, as well as encouraging self-reliance, recycling, and responsible consumerism.
Supplies
Instructions
Contributor

Sudbudz
Want to have some creative family time? Print out our SudBudz® Masks and get crafty with the kiddos! More than just a typical Fizzy Bath Ball, SudPrize® is a first ever line of skin-loving and natural bath products that make bath time Fun for Kids and Easy for Moms. A Free companion App, SudBudz® engages your children into an immersive world of special and unique characters called SudBudz®.
Tags party hats