Christmas Maze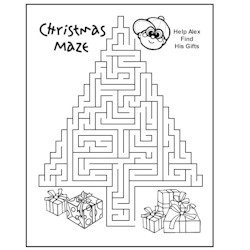 Long after all the presents are opened, there are always some who will be looking for something new to do. Print out this Christmas Maze for a little quiet activity before the bedlum begins again.
Supplies
Paper
Printer
Pen or pencil
Instructions
Click on Printables and print out as many mazes as you need for the kids and turn them loose to find their way through the maze.
This printable is reprinted courtesy of Terri Bose of MakingFriends.com where you will find lots more fun Christmas activities.
Contributor

Terri Bose of MakingFriends.com
Terri is the creator of makingfriends.com, freekidscrafts.com, scoutswaps.com and badginabag.com. Her work is republished all over the internet and is considered the queen of kids crafts.