Chinese Lantern Mobile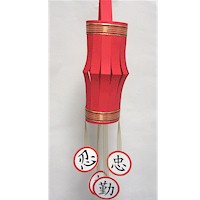 Have the kids make a Chinese Lantern Mobile to set the scene for their own Chinese New Year celebrations.  2014 is the year of the horse so have the kids make the  Handprint Horse as part of their study of the Chinese culture.
It is said that someone born under the Year of the Horse loves to be involved in charity events and always wants to help others. For fun, have the kids check and see what sign they were born under and how they fit into that description.
Supplies
Red Construction Paper
Two Yards of Gold Ribbon
Scissors
Glue
Instructions
Fold a piece of red construction paper in half.
Cut into the fold to make strips. Do not cut all the way through. Use photo as a reference. Open up. Roll in the opposite direction and glue.
Cut a strip of paper for a hanger. Glue in place.
Print two pages of the Chinese symbols provided. Cut out. You will need a total of eight circles.
Cut four pieces of ribbon in varying lengths from 8" to 12".
Glue two symbols together back to back with the end of a piece of ribbon sandwiched between. Repeat three times so you have four danglers for your mobile. Glue the danglers up inside the bottom of lantern.
Decorate the lantern with additional pieces of gold ribbon.
May you have a prosperous and healthy new year.
Patterns, Templates and Printables
Click on a pattern to open it in a new window
Contributor

Terri Bose of MakingFriends.com
Terri is the creator of makingfriends.com, freekidscrafts.com, scoutswaps.com and badginabag.com. Her work is republished all over the internet and is considered the queen of kids crafts.