Cereal Turkey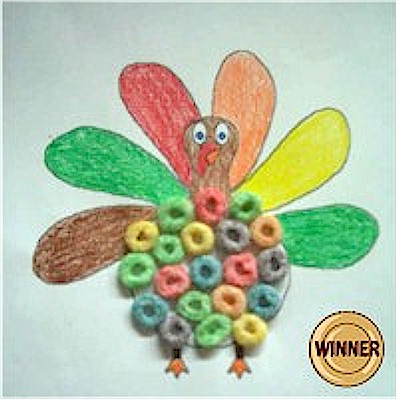 Back in 2008 we posted this contest winning Cereal Turkey and think it is worth showcasing again.  Thanks to  Tricia Buchholz, who was stationed at Camp Humphreys, Korea with the US Army (Her husband was active duty). She is a Registered Nurse and works for the New Parent Support Program on the post. With the help of a wonderful Volunteer, she is just starting a childrens' art class for kids 6 and under to help develop fine motor skills.
Supplies
Paper
Crayons or markers
Glue
Cereal
Instructions
Draw the outline of a turkey (may use your hand as a guide) . Color the turkey. Glue your child's favorite cereal in the stomach of the turkey
After the project is complete, sing the Albuquerque Turkey song with your child:
Albuquerque Turkey
(sung to the tune of "Clementine")
Albuquerque is a turkey
And he's feathered and he's fine
And he wobbles and he gobbles
and he's absolutely mine.
He's the best pet that you can get..
Better than a dog or cat.
He's my Albuquerque turkey
And I'm awfully proud of that.
He once told me, very frankly
he preferred to be my pet,
not the main course at my dinner,
and I told him not to fret.
And my Albuquerque turkey
is so happy in his bed,
'Cause for our Thanksgiving dinner…
We had CEREAL instead!
Contributor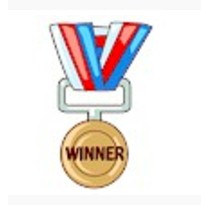 Free Kids Crafts Contest Winner
IT'S A WINNER! Take a look at what one of our talented viewers submitted to share with you. This craft was selected as one of this month's winners to received $50 in craft supplies. Click here to find out how you can enter your original creation for our judges consideration.
Supplies
Instructions
Contributor

Sudbudz
Want to have some creative family time? Print out our SudBudz® Masks and get crafty with the kiddos! More than just a typical Fizzy Bath Ball, SudPrize® is a first ever line of skin-loving and natural bath products that make bath time Fun for Kids and Easy for Moms. A Free companion App, SudBudz® engages your children into an immersive world of special and unique characters called SudBudz®.