Boy Scout Lantern Craft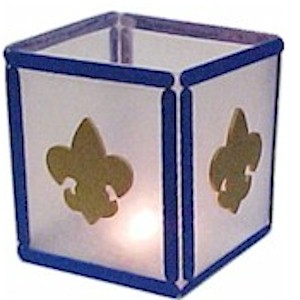 February 2, 2014 is Boy Scout Sunday and we thought this Boy Scout Lantern Craft would be a good project for the kids to make for the Blue and Gold Dinner. Let the boys get involved with the preparations for this celebration.
Scout Sunday is  a day when all members of Scouting will re-affirm the Scout Promise.
Supplies
16 Craft Sticks
4 Scout Foamies
Blue and Gold Paint
Foam Brush
Wax Paper
Tacky Glue
Small Candle, Tea Light or Glow Stick
Instructions
Paint 16 craft sticks blue. Dry 4 wooden cut outs gold. Let dry.
Lay a 24" piece of wax paper on your work surface. Start at the left bottom and glue four craft sticks on the wax paper to make a box. Right next to it make another box of four craft sticks. Repeat two more times so you have four boxes. Glue wooden cut outs in place. Let dry.
Trim the wax paper along the top. Trim down the side but leave a half inch to glue. Fold wax paper to make a box. Glue flap to secure. Set a candle in a votive inside and see how pretty it looks when the light shines through.
Now get ready to celebrate.
Contributor

Terri Bose of MakingFriends.com
Terri is the creator of makingfriends.com, freekidscrafts.com, scoutswaps.com and badginabag.com. Her work is republished all over the internet and is considered the queen of kids crafts.