Beaded Valentine Wand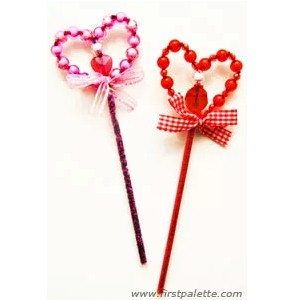 Kids will enjoy this Beaded Valentine Wand long after the craft is finished. Kids will have fun being a Valentine fairy or Cupid with a wand instead of a bow and arrow.
Did you know? Cupid is sometimes shown blindfolded. Why?…Because love is blind!
Supplies
Pipe cleaners
Drinking straw
Medium-sized beads
Fabric ribbon
Scissors
Glue gun (optional)
Instructions
1. Gather two pipe cleaners on one end.
2. String two beads through the gathered pipe cleaner ends and move them up slightly until there is about a half-inch of pipe cleaner length below the last bead.
These two beads will be the centerpiece for your heart wand so you can use beads that are different from those that you will use for the rest of the heart frame.
3. Bend both pipe cleaners downwards to define the top arcs of your heart frame.
4. String 8 medium-sized beads on each pipe cleaner. Move the beads up along the pipe cleaner until they are adjacent to the centerpiece beads.
If you want to use smaller beads, you can string up to 12 beads on each pipe cleaner. Do not use too many beads to avoid a top-heavy wand.
5. Twist the the two pipe cleaners together right after each pipe cleaner's last bead.
6. Fold the short length of pipe cleaner below the centerpiece bead around the pipe cleaner joint you made in Step 5.
7. You have just completed your wand's heart-shaped top. Notice that the two pipe cleaners below the beaded heart are long enough to make the handle for your wand. However they are too soft to support the weight of the beaded heart top.
8. To make the handle more rigid, wound a third pipe cleaner around the entire length of the pair of pipe cleaners.
9. Insert the bound pipe cleaner handle through a drinking straw. You can use a transparent drinking straw if you want the color of your pipe cleaner to show through.
Cut the excess length of drinking straw.
10. For added safety, fix the joint between the drinking straw and the bottom of the beaded heart using a hot glue gun. You may tie a ribbon around this joint to accent your wand.
Enjoy using your pretty beaded heart wand! Wouldn't it be a great project to make for Valentine's Day? Make one for yourself and some for your friends too!
Contributor

FirstPalette.com
A free resource for fun and educational kids' crafts, the site features a step-by-step guide for each craft project and includes printable templates, art recipes, and environment-friendly tips for crafting.