Woven Paper Lantern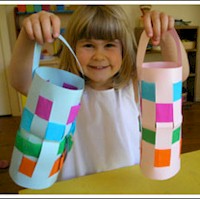 Supplies
Paper
Scissors
Crepe streamers or coloured strips of paper
Tape
Instructions
Fold a piece of paper in half along the longest side. Then cut into strips from the folded side, being careful not to cut all the way to the other edge of the paper.
Open it out and start to weave the streamers into the paper.
Continue until no more streamers will fit. Then trim the ends and tape them to the paper.
Join short ends to form a lantern, and stick on an extra piece of paper to make a handle.
Contributor

kids craft weekly
Each issue of Kids Craft Weekly outlines a selection of activities for young kids. The ideas in are intended to be cheap, educational and fun and can be used as suggested, or simply as a starting point from which you can develop your own plan of attack.
Tags weaving crafts
Newsletter
Subscribe to our free newsletter to get creative crafts mailed to your inbox.