Valentines with Heart Shaped Envelopes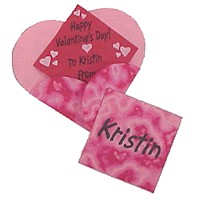 Supplies
Pink Card Stock
Red Card Stock
Glue Stick
Pink Milky Pen
Scissors
Black Markers
Instructions
Click on Printables and print the envelopes on pink card stock and the cards on red cardstock.
Cut out cards and envelopes. Add names to cards with black marker. Color in hearts with pink gel pen. Fold up two adjacent sides on dotted line. Glue the two flaps together where they overlap.
Slide cards inside. Fold two other flaps over and crease. Turn over and write name on front.
This craft is reprinted courtesy of MakingFriends.com.
Contributor

Terri Bose of MakingFriends.com
Terri is the creator of makingfriends.com, freekidscrafts.com, scoutswaps.com and badginabag.com. Her work is republished all over the internet and is considered the queen of kids crafts.
Newsletter
Subscribe to our free newsletter to get creative crafts mailed to your inbox.