Wine Cork Wreath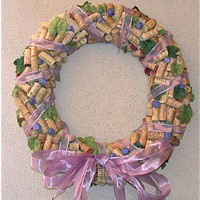 Whether you are decorating for Thanksgiving, or Christmas or just because, this Wine Cork Wreath will be a beautiful way to recycle those wine corks.
If you like to make wreaths you might also enjoy making the Loopy Paper Wreath.
Supplies
Straw wreath base (the one we used in the photo was 18 inches in diameter)
Wine corks (for the 18 inch base, figure on between 175 - 200 corks)
Hot glue gun and hot glue
Artificial silk grape leaves
Artificial grapes (we used artificial frosted grapes)
5 yards of 1 1/2 inch wide ribbon
Big Ribbon Bow
Long straight pins
Editor's Note: Hot Glue Guns should only be used by a responsible adult.
Instructions
Cover your work surface with several layers of paper to insulate it against any spilled hot glue. Use the hot glue gun to run a strip of hot glue down one side of the cork (I like to position the corks on my wreaths so that the most interesting side of the cork is facing up). Place the cork, glue side down, on the straw wreath base, and hold in place for 5 to 10 seconds until the glue sets. Repeat with other corks, switching directions every now and then, so the design doesn't look too symmetrical, but putting the corks as close together as possible and covering as much of the base as you can.
Continue to glue wine corks on the base until it is entirely covered. Some people like to stop right here and hang the wreath as is. If that's you, you're done. If not continue with the next steps to decorate the wreath further. Feel free to stop at any of the steps along the way when your wreath looks "finished" to you.
Glue individual silk grape leaves and/or artificial grapes randomly around the wreath. Use these embellishments to fill in any areas of open space between wine corks
Before attaching the Big Ribbon Bow to your wreath, use a straight pin to secure one end of 1 1/2 inch wide ribbon to the back or underside of the wreath. Slowly wrap the ribbon around and around the wreath, at pleasing intervals. Clip the ribbon when you get the wreath wrapped to your liking, and secure the second end with straight pins as well. Attach a Big Ribbon Bow to the bottom of the wreath. Congratulations! Your wreath is now ready to hang!
Contributor

FabulousLiving.com
Cheri Sicard is the editor of FabulousLiving.com, a website specializing in crafts, holidays, do-it-yourself and more. www.fabulousliving.com