Newspaper Flower Holder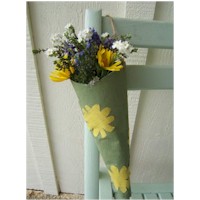 What could be nicer than finding a bouquet of flowers on your doorknob? Here's an easy flower holder you can make to hold a bouquet of wild flowers that you have picked for someone special.
Supplies
Newspaper
Toilet paper tube
Scissors
Pencil
Paint
1" paint brush or sponge brush
Small bowl
White school glue
Large string or medium sized ribbon
Hole punch
Large, circular object to trace
Instructions
I used the largest pan lid I had and traced it onto the local advertisements we get for free.  Doesn't really matter what is on there since I plan to cover it up anyway!
Cut out the circle. Kinda looks like a papery pie!
Then fold it in half. Now it looks like you have half a pie. Cut a triangle slice out of the pie.
Now you've got your basic shape and you need color. Make sure you've got a few layers of paper or ads to cover your work surface.
I made a thick wash - by adding just a tiny bit of water to the paint - to cover the paper, but it still has a slightly see-through, rustic quality to it. Once applied, make sure to move your newly painted paper so it doesn't stick down to the work surface and rip. I painted both sides of the paper so the inside of my cone would have color too.
While I was waiting for that to dry, I also applied the thick wash to the inside and outside of the toilet paper tube as well. Drying time is pretty short for something like this, even when doing both sides.
Once you're sure it's all completely dry, apply some glue to the bottom of the toilet paper tube and form your paper cone around it, with the tube sticking up directly in the middle.
The tube is going to add some stability to the cone (since newspaper is pretty floppy!) and at the same time it will contain your flowers in a tighter bunch and keep them from falling down into the cone.
Be sure to glue along your outside seam so the cone doesn't have a gap. It may not want to press down perfectly, but that's okay too!
While this is drying you can hole punch on either side of the cone and thread your string in. I threaded in a thick jute string and knotted it on the inside but if your string or ribbon isn't thick enough you can loop it through and tie it on top.
Still waiting for things to dry? How about making some embellishments! Use your scrap newspaper and cut small circles. Like before, fold in half and then freehand some "petals." When you open it up you'll have a flower shape!
To these I made a new wash using a cheery yellow. You could also try butterfly shapes in keeping with the spring theme. To the embellishments you only need to color one side. Again, make sure to move them after painting so they aren't sticking to the work surface. Let dry completely.
Once everything is dry you can glue on the extras (I used a couple of mine to help keep the seam tacked down).
Now it's time for the flowers! Wander around your yard and gather a variety of colors. For filler greenery I added several sprigs of thyme so not only does it smell good but it adds dimension to the bouquet.
Contributor

Bit O Shine
This blog is the property of Molly Kozera who writes, "I'm always trying new things! Photography to origami, knitting to decoupage. I love to create something from nothing or take something pre-made and generic and transform it. It's all about making do, reusing and keeping the cost low - with style!"