Folded Paper Airliner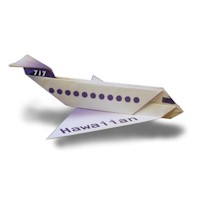 This craft is reprinted courtesy of Kyong Hwa Lee of AmazingPaperAirplanes.com.
August 19th is National Aviation Day. Here's another wonderful paper airplane from Amazing Paper Airplanes.
If you enjoy this project you might like to try these:
Supplies
White Paper
Markers
Instructions
Click on Printables for complete illustrated folding instructions.
When you are finished, decorate your airplane according to the picture or create your own airline.
Patterns, Templates and Printables
Click on a pattern to open it in a new window