Wine Cork Decorations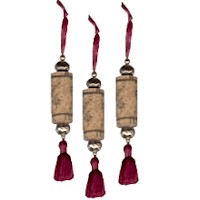 Recycle those wine corks  into these delightful Wine Cork Decorations for the tree. I'm sure you've got a whole collection of wine corks stashed away. Now is the time to get them out and turn them into these beautiful ornaments.
Supplies
Wine corks
Thin ribbon
Tassles
Decorative beads (with large holes)
Long darning needle
Scissors
Drill
Glue
Editor's Note: Have an adult carefully pre-drill a hole lengthwise through the center of the cork using a small bit drill.
Instructions
Slide one or more decorative beads over the loop of the tassle.
Cut approximately 1 foot of ribbon and slip one end into the tassle loop (above the beads) then bring ends of ribbon together.
Thread the ribbon (now attached to the tassle) through the darning needle and bring up through the center of the cork then pull till the beads and tassle are in contact with the cork.
Slip one or more decorative beads over the ribbon then knot the ribbon several inches up leaving a loop to hang from Christmas tree branch.
Cut excess ribbon above the knot and use Fray Check (available at Joann.com) to prevent ribbon from fraying. You may also carefully use a lighter or match to slightly singe the ends of the ribbon to prevent fraying.
Glue the beads to the top and bottom of the cork to ensure they remain centered and in place.
Contributor

All Things Christmas
Here you will find holiday treasures such as printable cards, lyrics to your favorite Christmas carols, songs in MIDI format, unique craft ideas, and decorating tips. We have a lot of holiday stories, delicious recipes, links to other holiday web sites, and more, including our Christmas for kids-section, which offers fun, games, riddles, printables, and other goodies just for kids.