Tissue Paper Candy Cane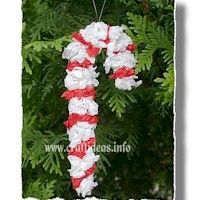 Year after year children will enjoy decorating the Christmas Tree with their handmade Tissue Paper Candy Cane. My teenage grandchildren still look for their contributions from younger years on Grandma's tree.
Supplies
Cardboard (recycle empty cereal boxes or other cardboard)
Red and White Tissue Paper
Glue
Scissors
Instructions
Draw and cut a Candy Cane pattern from a piece of cardboard. Small ones for decorations for the Christmas Tree and larger ones for wall decorations.
Tear tissue paper into small pieces and wad each piece into a ball.
Apply plenty of glue to one stripe at a time and  press the wads into the wet glue.
In no time you will have abeautiful candy cane for the holidays.
Contributor

Craftideas.info
On Craftideas.info you will find hundreds of free craft projects for all seasons of the year, free craft templates for the projects and over one hundred step-by-step picture tutorials. New crafts, patterns and tutorials are being added regularily!