Watermelon Flower Garden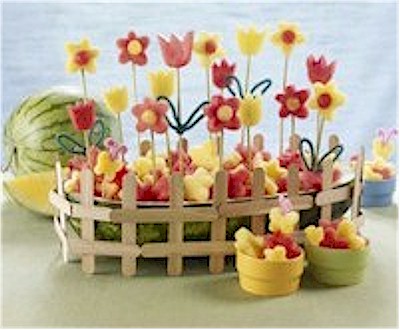 Make this refreshing Watermelon Flower Garden for your next party and impress kids and grown ups alike. It makes the perfect centerpiece for your summer festivities.
Supplies
Oblong seeded watermelon
Small yellow watermelon (or substitute mini red watermelon or pineapple)
Flower shape cookie cutters
Melon baller
15-20 Skewers for flower stems
40-50 Popsicle or jumbo craft sticks for picket fence
Toothpicks
Hot glue gun
Green food coloring
Pipe cleaners (optional)
Read more at https://www.freekidscrafts.com/watermelon-flower-garden/#K3hB6H7tMqjsutMP.99
Instructions
Wash the watermelons. Cut a 1/4 inch slice off the bottom of the oblong watermelon to provide a stable base. Cut the top 1/3 off the watermelon lengthwise to provide the flower bed.
Cut out flat pieces from the flesh of the slice and from flesh from the flower bed piece. Use cookie cutters (or free hand cut) for the desired shapes for flowers. Be sure to cut shapes from the yellow watermelon as well. (Shown are daisies and tulips.)
Soak skewers in green food coloring, and set on paper towel to dry.
Use a small melon baller to create flower centers from both the yellow and red watermelons. Assemble the flowers by attaching the center balls with toothpicks. Place entire flower head on tinted green skewers. Insert skewer flower stems into base flower bed. Be sure to alternate colors and feel free to experiment with other colorful fruits like cantaloupe or blueberries.
Fill the basket flower bed with the rest of the fruit in flower shapes and balls. Shape a couple pipe cleaners into leaves and carefully attach to the skewer stems.
Using extreme caution use a hot glue gun to attach the Popsicle sticks around the flower bed as shown to create a fence for the garden. Garnish with other fun shapes such as butterflies or honeybees.
Contributor
Incredible Edible Crafts
Hello, my name is Lana Glass and making candy bouquets is an important part of my life. Edible Crafts is a great way for parents to spend quality time with their children! Kids absolutely love making food craft projects and sure enjoy eating them! This is a fun way to get even your picky eaters to eat. Edible crafts are enjoyable and delicious projects.
Supplies
Instructions
Contributor

Sudbudz
Want to have some creative family time? Print out our SudBudz® Masks and get crafty with the kiddos! More than just a typical Fizzy Bath Ball, SudPrize® is a first ever line of skin-loving and natural bath products that make bath time Fun for Kids and Easy for Moms. A Free companion App, SudBudz® engages your children into an immersive world of special and unique characters called SudBudz®.