Butterfly Party Bouquet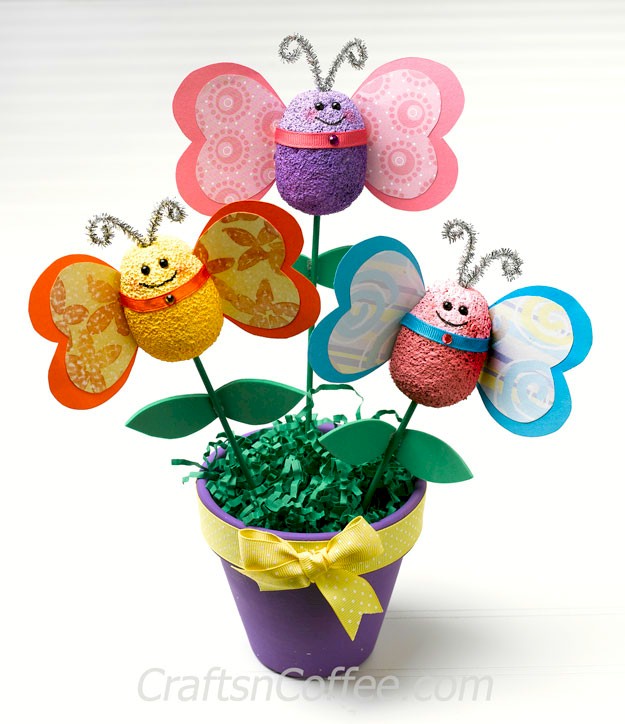 Butterflies make everybody happy and this Butterfly Party Bouquet will make adorable party favors or a craft project to keep the kids occupied.
Supplies
STYROFOAM™ Brand Foam:
3" ball
1-7/8" x 2-1/2" eggs, three
Clay pot, 4"
Cardstock in pink, orange, turquoise
Patterned paper to coordinate with cardstock
Acrylic craft paints: purple, yellow, pink, white, green, black
Silver tinsel stems, two
Ribbon:
1/4″ wide in orange, pink, turquoise
7/8" wide in yellow
Rhinestones, 5mm, in yellow, purple, pink
Straight pins with black heads, six
Red chalk or blush
Wood skewers, three
Paper shred or crinkle grass in green
Craft foamie in green
Thick, white craft glue
Scissors
Pencil
Stiff bristle paintbrush
Liner paintbrush
Plastic knife
Black marker
Instructions
1. Prepare the clay pot:
Paint the pot purple. Let dry.
Glue yellow ribbon around rim.
Make a bow and glue to the ribbon.
Glue the 3" ball of STYROFOAM Brand Foam inside the pot.
2. Butterfly bodies:
Roll eggs on a table to slightly flatten the wide end, so the egg is more oval in shape.
3. Paint the butterfly bodies:
Insert a wood skewer into the bottom of each egg and use it as a handle while painting.
Paint the lower, 1-1/2" of each egg in yellow, purple, and pink.
Mix each color with white and paint the top of each egg with matching color.
Let dry.
4. Make the wings:
Using the pattern, cut two wings from each color of cardstock and two inner wings from coordinating paper.
Glue the inner wings to wings.
With a plastic knife, make a 1-1/2" slit on each side of body.
Dip point of wings in glue and push into slits.
DIY Mother's Day craft idea
Add pins for eyes.
5. Add faces:
Push in pins for eyes.
Blush cheeks with chalk.
Paint on a thin, black smile.
6. Glue 2-1/4" ribbon around each body, under the face. Glue matching rhinestone to ribbon.
7. Antennae: Cut tinsel stems in half. Fold three tinsel stem pieces in half and insert and glue into top of head. Curl ends.
8. Make the bouquet:
Remove skewers from the butterflies and cut to 7", 8", and 9".
Paint skewers green and let dry.
Dip ends of skewers in glue and push into bottom of bodies.
Insert butterflies into foam ball in clay pot.
Cut leaves from craft foamie and glue to skewers.
Fill top of pot with crinkle grass.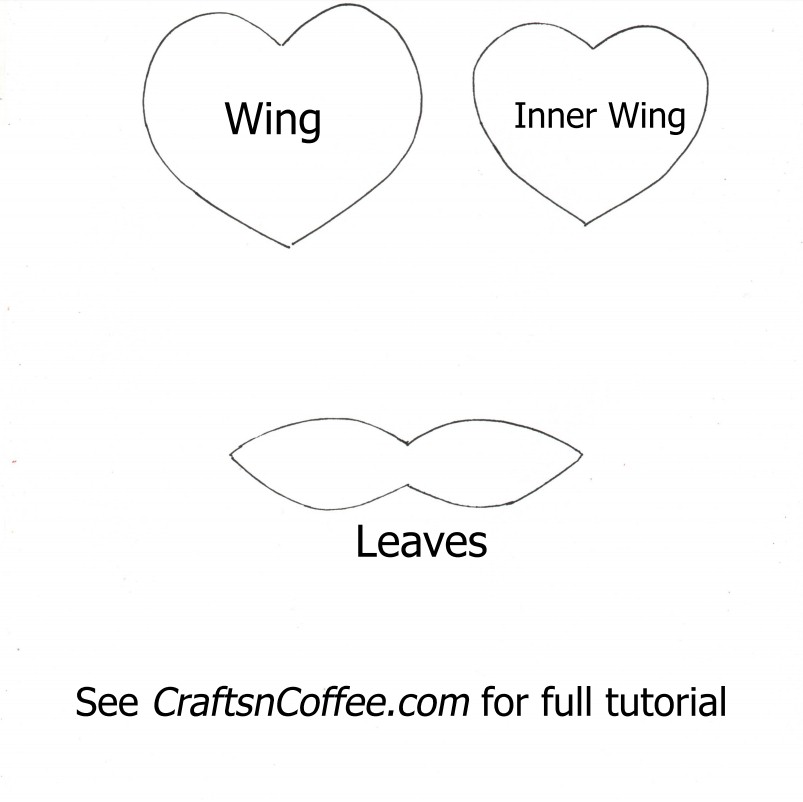 Contributor

Styrofoam Brand Products
STYROFOAM™ brand from Dow is one of the most trusted and widely known brand names in the craft industry. From Christmas ornaments to wedding topiaries, they have helped shape your crafting memories for 60 years. Today, their high-performance foams are helping you make tomorrow's memories.
Supplies
Instructions
Contributor

Sudbudz
Want to have some creative family time? Print out our SudBudz® Masks and get crafty with the kiddos! More than just a typical Fizzy Bath Ball, SudPrize® is a first ever line of skin-loving and natural bath products that make bath time Fun for Kids and Easy for Moms. A Free companion App, SudBudz® engages your children into an immersive world of special and unique characters called SudBudz®.