Valentine Thumbprint Bookmark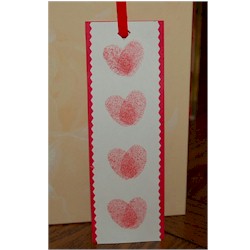 This thumbprint heart bookmark is an easy craft perfect for school age children. Parents will adore this, since the hearts are made using the child's thumbprint. What an excellent and easy gift to give for Valentine's Day!
Supplies
Red and white cardstock or construction paper
Red stamp pad (or red paint)
Hole Punch
Length of ribbon (red, white, pink)
Scissors
Designer edge scissors
Glue
Instructions
1. Cut out two rectangles from the red and white cardstock, each 1.5 inches wide and 6 inches long.
2. Using your thumb, press it into the red stamp pad or paint. Then, depress your thumb down on the white cardstock rectangle, at a slight angle to form one half of the heart. Then, overlap the first thumbprint with a second thumbprint to form the heart. See the photos below for proper placement. Using paint can be a bit trickier. Practice on scrap paper first.
3. Make four hearts down the center of the white rectangle.
4. Cut off the long edges of the white rectangle with decorator edge scissors.
5. Glue the white rectangle to the center of the red bookmark, to frame it. Allow to dry.
6. Use a hole punch to punch a hole near the top. Thread through some ribbon and tie. Here I used velvet ribbon. I applied glue to the inside of the ribbon and attached the other side to it, and allowed it to dry with a clothespin holding it in place until dry.
This craft is reprinted courtesy of crafts-for-all-seasons.com.

Contributor

Crafts For All Seasons
The Crafts For All Seasons website has many craft projects for every season of the year! There are easy step by step instructions, with many photos to help along the way. Please stop by and browse over 100 craft tutorials!