Valentine Cone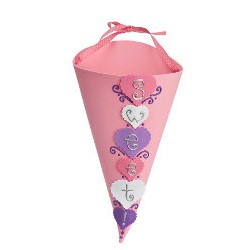 This craft is great for little kids to make. They can fill this foam cone with all sorts of treats for their Valentine party at school. Foam paint makes decorating loads of fun.
Supplies
Foam Paint Purple & Silver Metallic
Ruler
9" paper or dinner plate
Scissors
Lo-temp glue gun
Six foam heart shapes, 1 each of large and small scallop-edged heart in white, pink, purple
Hole punch
36" length of ribbon (We used 3/8" pink grosgrain ribbon with white dots.)
12" x 18" sheet of light pink craft foam
Instructions
1.Measure and cut 12" square from foam. Use plate for pattern to round off one corner of square and cut.
 
2.Overlap straight edges 1/4" and glue together to form cone.
 
3.Referring to photo for placement, center and glue hearts over overlap of cone for front.
 
4.Use Silver Metallic to paint letters on hearts to spell "sweet!"; let dry.
 
5.Use Purple to embellish around hearts with dots and swirls; let dry.
 
6.Press cone flat and punch holes inside sides of pocket 1/4" from edge.
 
7.With ribbon centered flat across back of cone pocket; pull ends of ribbon through holes to inside of pocket and tie ends into bow for hanger.
This craft is reprinted courtesy of FaveCrafts.com.
Contributor
FaveCrafts.com
FaveCrafts is owned by Prime Publishing LLC, an Internet Media Company that operates web site communities, e-mail newsletters and e-commerce stores in niche areas such as crafting, home décor, wellness, and cooking. See their craft projects at https://www.favecrafts.com/