Folded Love Bugs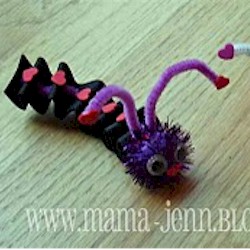 Enjoy making these adorable Love Bug crafts with your kids for Valentine's Day or any day.
Supplies
Foam
Googly eyes
Pipe cleaner
Puff ball
Toothpick
Glue
Gluegun (optional)
Heart puncher (optional)
Instructions
Cut a piece of foam down to about 1x8 inches. Then fold it accordion style and stick the toothpick through it.

Next stick the pipecleaner through the hole you just made in the foam.
Cut the pipeclaner down a fold the ends a bit so that the foam will not slide off of it.  Then cut the rest of the pipecleaner down to make the antennae. Use the heart punch to punch little hearts from the reamaining foam.  Next use the glue gun to glue on the antennae. While that dries glue the eyes onto the puff ball head and then glue the head where I you just glued the antennae.

Finally glue the little hearts onto the antennae and along the body of their bug. You may want to use a glue gun for this part too as it dries faster.
This craft reprinted courtesy of Mama-Jenn Blog Spot.com.
Contributor

Mama-Jenn.blogspot.com
I am a Christian wife and home-schooling mama striving to be a Proverbs 31 woman! I am blessed with 5 kids, including one princess and two sets of twin boys! In my "spare" time I enjoy scrapbooking, though blogging seems to be taking its place. I currently have three main blogs. This is my family/homeschool/craft/everything blog. The Homeschool Resource List is a collection of all the free online resources that I have found for homeschoolers. The "Brown Like Me" Book Review is a collection of books featuring "brown" characters. I also write for Totally Tots, which is a blog dedicated to those with toddlers.