Mr and Mrs Potato Head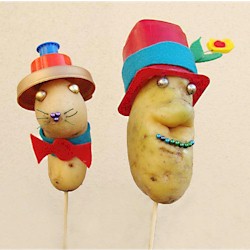 Mr. Potato Head has been a favorite toy for years. Now it here is an easy way to make your own with recycled parts.
Supplies
Interestingly shaped potatoes, or even regular shaped potatoes....
Recycled items from the kitchen to make hats: a yogurt container for a hat, a plastic lid plus the top of a liquid dishsoap bottle, anything else you can come up with....
Felt or fabric scraps
Hot glue or high stick craft glue
Instructions
Use your imagination and have fun! Throw a potato head puppet show! Oh and here they are in profile, just to get another chuckle out of you.
Contributor

CreativeJewishMom.com
Visit me at CreativeJewishMom.com. on the exciting journey of giving greater meaning to the everyday through creativity. This blog is my way of sharing with you the joys of crafting, decorating, cooking, and gardening. I love simple ideas, recycling and quick transformations.