Recycled Plastic Ring Snowflake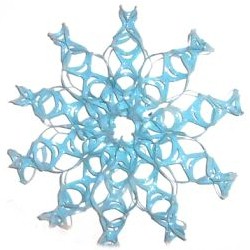 Take throw away materials and create a beautiful craft like this one for a 10-point snowflake, very pretty! Made from 6-pak ring holders from soda.
Supplies
Recycled 6 soda can pack plastic rings
Staples
Paints
glitter
cord
Instructions
Click on Printables for a diagram to follow the instructions. 
(1) Take 2 holders, and put them back to back. (do not nestle them)
(2) Staple together at points B & I.
(3) Staple points D & E together on each holder.
(4) Staple points F & G together on each holder.
(5) Repeat steps 1-4, nine more times, you now have all the pieces you need for 1 snowflake.
(6) Now, staple tab C to tab A of another holder, and continue until all ten pieces are in one line.
Flip over and staple the other side, same way.
(7) Staple K to L of the piece next to it, go all the way around. Flip over and repeat.

(8) To make it sturdier staple tabs A & C together, as close to the center as possible, flip over and repeat.

Now, you have the snowflake finished, the painting and glittering are up to you.
This project was contributed by Shaddy and is reprinted courtesy of Craftbits.
Patterns, Templates and Printables
Click on a pattern to open it in a new window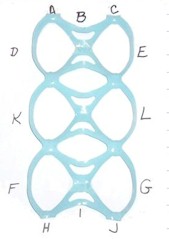 Contributor

CraftBits
Our website was created by a mother and daughter team, adding a unique combination of crafting qualities and expertise of creativity. We started our website after numerous years in the area of craft, teaching, retail craft and owning a gift store. We decided to launch it to provide resources for teachers, therapists, and craft enthusiasts in the year 1999. Since then, the website has grown tremendously in terms of content and resource information.