Valentine Butterfly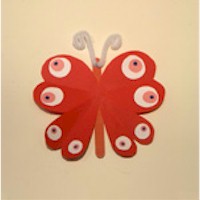 Supplies
Colored paper
Glue stick
Popsicle sticks
Scissors
Pipe cleaners
Instructions
Cut two sets of hearts from red paper for the wings and glue them on a popsicle stick.
Then  trace around a glue stick for the big circles, cutting them from white paper.
A magic marker provided the pattern for the next sized circles on the bigger wings. These were cut from pink paper.
The smaller pink circles were done with a hole punch.
The blue dot is magic marker.
Glue them all together with a glue stick which requires some dexterity.
The antenna are twisted pipe cleaners.
Contributor

Kabubble
With ten years of "Grand" parenting behind the team at Kabubble they've come up with lots of ideas on how to have lots of fun along the way and they have created treasured memories. This site shares those ideas with all grandparents and parents.
Newsletter
Subscribe to our free newsletter to get creative crafts mailed to your inbox.