Cuddles The Clown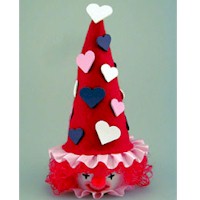 Cuddles The Clown is one of the characters in the "Hatters" Renuzit® series; clever projects that will make delightful additions to your seasonal decorating. This pretty Valentine decoration will brighten up any room and make the kids smile.
Supplies
The Dial Corporation Renuzit® LongLast® Adjustable Air Freshener*
Felt*: 9" x 12" piece of red; 2" square of pink
Acrylic paint*: White Wash, Baby Pink, Pansy Lavender
Dimensional paint: red, black
Woodsies®*: 9 small Hearts (3/4" x 7/8"); 8 medium Hearts (7/8" x 1 1/8")
Small amount of red curly doll hair
1/2" red pom pom
16" length of 7/8" wide pink satin box-pleated ribbon
Fine sandpaper
Glue gun and glue sticks
Craft glue
Scissors
Paintbrush
Needle
Red thread
Heavy-weight plastic bag
Ruler
Instructions
BASE: Lightly sand Renuzit® base to rough surface and paint with two coats White Wash. Let dry.

HAIR: Gently fluff and glue curly hair around bottom 1" of Renuzit® topper.
HAT: Cut hat from red felt according to pattern. With right sides together, using 1/4" seam allowance, stitch center back seam. Turn right side out. Glue 9" length of box-pleated ribbon to inside bottom edge of hat, overlapping slightly at back seam. Slip hat on topper, over top of hair, and glue in place.
FACE: For smile, place plastic bag over smile pattern and trace using red dimensional paint. Let dry.
Similarly trace eyes using black dimensional paint. Let dry.
Cut mouth from pink felt according to pattern. Align with bottom edge of base and glue to center of face.
For nose, glue pom pom to center of face, slightly overlapping mouth.
Peel smile from plastic and use craft glue to glue to mouth. Similarly peel and glue eyes above mouth.
COLLAR: Glue 7" length of box-pleated ribbon underneath the bottom of the base with ruffles extending outward around the base.
EMBELLISHMENTS: Paint 3 medium and 3 small hearts White Wash; 2 medium and 5 small hearts Pansy Lavender; and 3 medium and 1 small heart Baby Pink. Let dry. Glue one medium white heart to the tip of the hat. Glue remaining hearts randomly to hat alternating sizes and colors.
GEL REPLACEMENT: When the original gel is depleted, simply replace with a new container base. If your project base is decorated, remove dried gel. From a new container, remove new, non-toxic gel. Then slip it over the post of the decorated base and reposition the decorated topper.
Patterns, Templates and Printables
Click on a pattern to open it in a new window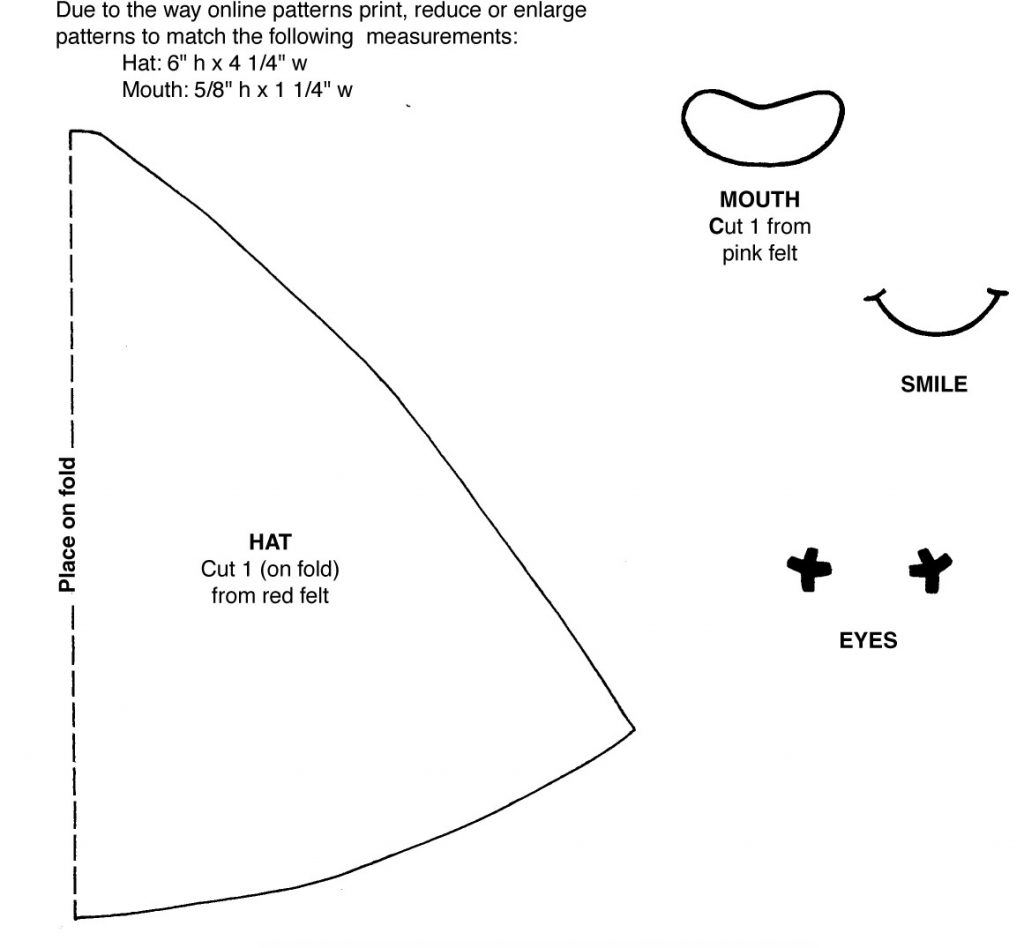 Contributor

Renuzit