Easy Heart Shaped Basket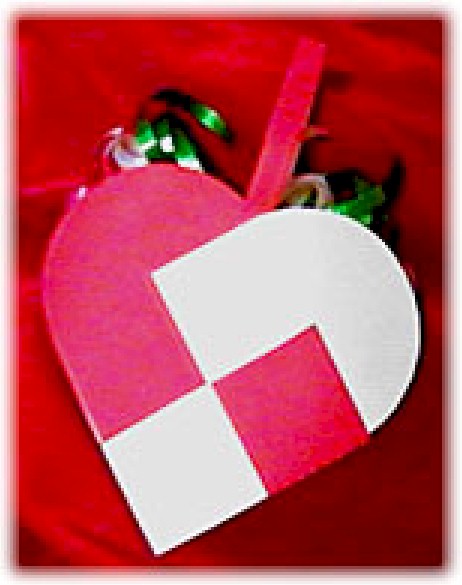 This Easy Heart Shaped Basket was designed by Heidi Ott and is a delightful way to present that little bit of deliciousness to your favorite person. This project contains instructions for both a paper and a ribbon heart basket.
Supplies
Paper or Ribbon ( 6" each of: red 2" wide, white 2" wide, red 1/4 " wide)
Scissors
Glue
Instructions
Paper Hearts
Print the pattern pieces (red piece and handle). Cut the pattern pieces along outer edge. Using the red piece as a guide, cut out a white piece. You should now have a red piece, a white piece and a red handle.
Stack the red and white pieces together and fold along the fold line. Cutting through both pieces, cut the center slit as shown on the red pattern piece. Separate the two pieces and refold each separately.
Hold both pieces at an angle as shown in Fig. 1.
Take the top red strip and slip it through the top white strip (Fig. 2).
Open the top red strip and slip the bottom white strip through the red strip (Fig. 3).
Open the bottom red strip and slip the top white strip through it (Fig. 4).
Open the bottom white strip and slip the bottom red strip through it (Fig. 5).
Glue the ends of the handle piece to the heart to form a basket (Fig. 6).
Ribbon hearts
Cut one 2" wide red ribbon 6" long. Fold in half. Cut the raw edges so they are rounded. Starting at the center of the folded edge, cut a 2" slit going towards the curved edge. Repeat with 2" white ribbon. To weave the basket follow directions 2-7 of the paper basket.
Fill with small treats and give to family and friends.
Heidi Ott is the owner of the Crafter's Community web site. Visit Crafter's Community (http://crafterscommunity.com) to find hundreds of craft ideas, tutorials, and resources.
Patterns, Templates and Printables
Click on a pattern to open it in a new window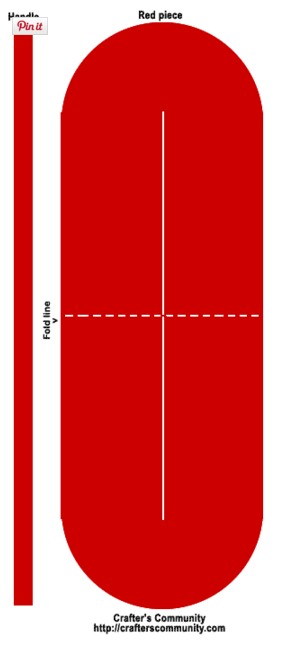 Other Images
Click on an image to open it in a new window
Contributor

The FreeKidsCrafts Team
These projects are created by Terri, Betty, Jamie or one of the talented staff members at MakingFriends.com. They have been created exclusively for publication on FreeKidsCrafts.com with supplies you'll be able to find around your house.
Tags weaving crafts