Tiny Umbrellas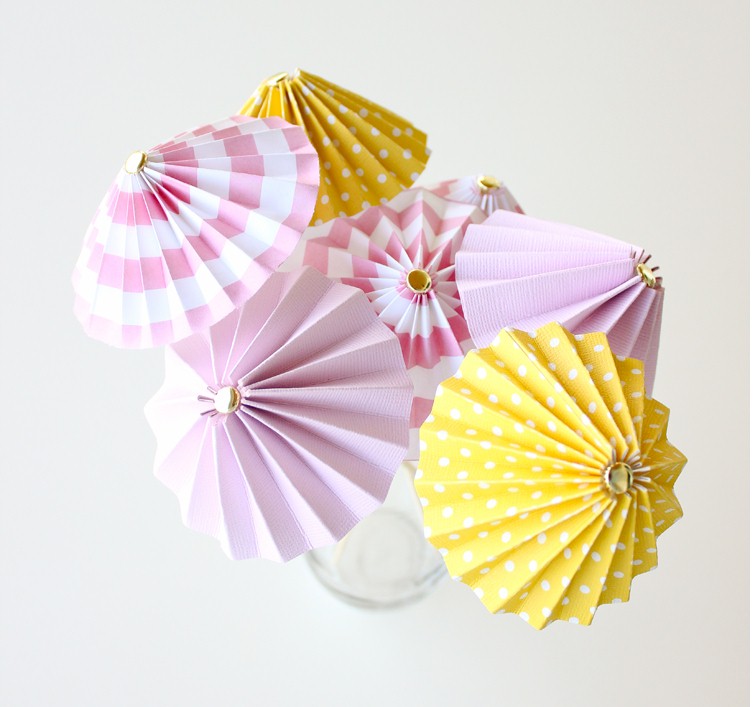 These Tiny Umbrellas are fun to put in your punch for a summer birthday or party. They are so small you can use leftover pieces of scrapbook paper in coordinated colors to go with the party theme.
Supplies
12″ x 12″ Scrapbook paper
Brass paper brads
Toothpicks or skewers.
Hot Glue
Scissors
Instructions
Cut your scrapbook paper into 2 inch strips. (Your finished strips will be 2 inches by 12 inches, because you are cutting it from 12 in. x 12 in. paper.)
Fold the strips in 1/4″ increments, accordion style.
Hot glue the ends together, creating a loop. Make sure to glue the ends in a manner that will keep the accordion pattern consistent.
Push one of the sides of the loop together into an umbrella shape. Hot glue it in place. Insert a brad in the middle of the umbrella top at the same time. Hold in place until the glue cools.
Contributor

Delia Creates
I'm Delia and I blog at www.deliacreates.com. I am a crafter, sewist, photographer, crocheter, and general DIY-er. I have three kids who I love to create for and with. They are often my inspiration and my muses. I even have a section of my blog dedicated to them, call Kids Create: http://www.deliacreates.com/kids-create.