Dahlia Wall Decoration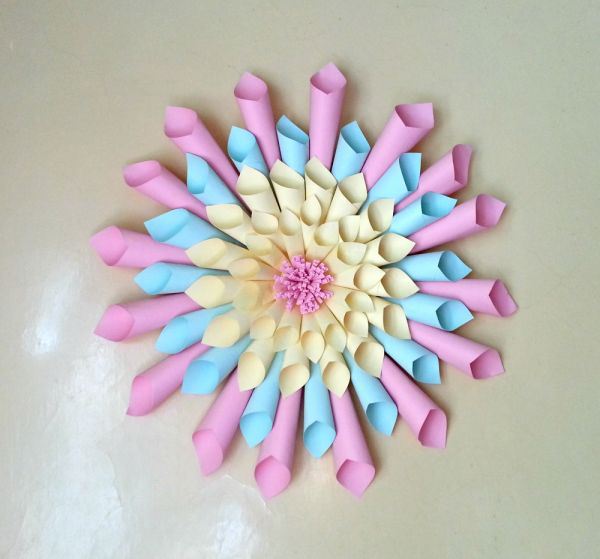 Simple cone shaped rolls turn into this beautiful Dahlia Wall Decoration. This beautiful project can be completed in about an hour and created in colors that  match your  decor or party theme.
Supplies
Colored art paper or thick paper
Scissors
Hot glue
Cardboard.
Instructions
Take a square shaped paper, size of your choice. Start rolling the paper from any corner (diagonally).
Keep rolling it to create a cone shape. Glue the side to secure the cone. Similarly make enough cones to complete the wreath. Use 3-4 different colored papers to make the cones and also keep in mind that the cones should be of 4 different sizes. One size for each layer.
Done making the cones? Now prepare the base. Cut out a round piece out of cardboard. The base should be large enough to fit all the cones nicely.
Start gluing the cones on the round cardboard piece from the outer edge. Glue the large ones around the edge and the smaller while moving towards the center. It feels great how the dahlia pattern blooms while gluing the cones.
Other Images
Click on an image to open it in a new window
Contributor

CraftBits
Our website was created by a mother and daughter team, adding a unique combination of crafting qualities and expertise of creativity. We started our website after numerous years in the area of craft, teaching, retail craft and owning a gift store. We decided to launch it to provide resources for teachers, therapists, and craft enthusiasts in the year 1999. Since then, the website has grown tremendously in terms of content and resource information.