Stamped Puffer Fish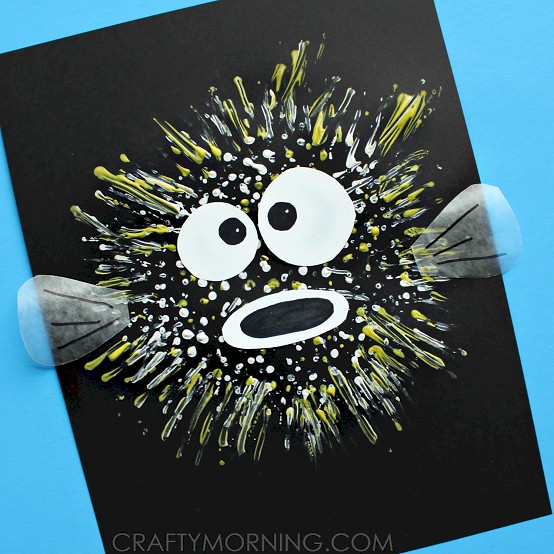 This easy Stamped Puffer Fish is made with a bouncy ball….don't tell the dog you "borrowed" his play toy for a craft project. It's amazing the items you have around the house that can be used for fun crafting.
Supplies
Pointy bouncy ball
White and yellow paint
Wax paper
Black and white paper
Black sharpie
Glue/Scissors
Instructions
Start by dipping the bouncy ball in white paint and have the kids make dots in a circle on a black sheet of paper. Then around the edges do outward strokes so it looks like the pufferfish's spikes. Add some yellow paint to make it colorful!
Cut out some eyes and a mouth with white paper. Take a black sharpie and draw in the pupils and inside of the mouth. Cut two fins out of wax paper and add details with a sharpie. Glue all the pieces on and you're done!
Contributor

SassyDealz.com
"Michelle has a teaching degree and for the love of art she started sharing kids crafts on her blog to inspire teachers, parents, and the little ones! SassyDealz.com is not only a craft website, but also a place where you can find online bargains and freebies!"