Sugar Cube Houses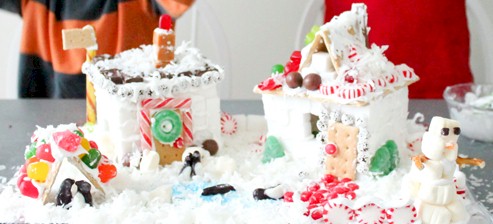 Set your future builders to work making these Sugar Cube Houses. There is no end of possibilities when you turn the kids loose with sugar cubes, icing and some bright colored candies.
Supplies
Sugar cubes
Royal Icing
Colorful candies, marshmallows, pretzels, etc.
Instructions
I whipped up a batch of royal icing and then we got to work using the sugar cubes like little building blocks.
After a while, we learned that dipping a block in the icing and then setting it in place was the most efficient method, and so easy for little hands to do.
Once they got going, it didn't take long for our table to turn into this winter landscape.
Contributor

Delia Creates
I'm Delia and I blog at www.deliacreates.com. I am a crafter, sewist, photographer, crocheter, and general DIY-er. I have three kids who I love to create for and with. They are often my inspiration and my muses. I even have a section of my blog dedicated to them, call Kids Create: http://www.deliacreates.com/kids-create.