Clothespin Soldier Ornament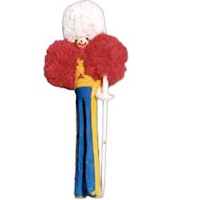 Make a whole army of this Clothespin Soldier Ornament to trim your tree. It will set the perfect theme for a salute to Veterans this Christmas.
Supplies
Clothespin
Red, black and blue acrylic paint
10" of 1/8" braid
Plastic olive pick
Red and white pompoms from curtain trim
White glue
Gold colored DMC embroidery floss
Needle
Acrylic glaze
Instructions
Paint a face on the top of the clothespin and paint a red shirt and blue trousers.
Glue gold braid criss-cross across the chest and then straight down the sides of the trousers. Slip a 1-1/2" piece of braid through the top of the olive pick and glue the braid around the waist.
Glue red pompoms on either side of the "chest."
Cut a 5" piece of gold thread which will become the loop to attach your soldier to the tree. Glue either end to the top of the clothespin. Glue the white pompom on top.
Contributor

eco-artware
eco-artware.com was a new adventure for me - but it dovetailed nicely with the way I lived. I recycled and reused before and after it became chic. I'd worn plain and fancy Birkenstocks with vintage Armani suits through stints as a magazine illustrator, custom needlepoint designer, crafts teacher and manager of crafts shops. My grandmother's hand-made napkins with crocheted borders were the centerpiece of every holiday table I set. I'd used flea market finds as the raw materials for cards, craft projects and holiday decorations since I was a child.