Strawberry Shortcake in a Mason Jar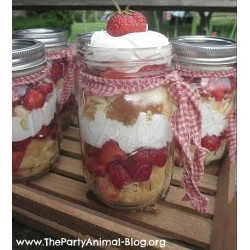 Are you thinking of making some Strawberry Shortcake for a party this summer? If so change it up and serve it in a Mason Jar, it is so EASY to do and not only does it taste great but it looks really cute.
Supplies
Ball/Mason Jars
Strawberries
Sugar
Cool Whip
Strawberry Short Cake Shells
Pound Cake
Gingham Material for Ties on the Jars
Instructions
First thing I did was wash my Strawberries and take the tops off. Then I sliced them up in quarters. I put them all in a bowl and added a tiny bit of water and sprinkled sugar over them. You do not need to do this, but it makes a little sauce and adds extra sweetness my kids love. I let them sit in the fridge for a bit to marinade up.

Next I just cut up a Strawberry Shortcake Shell (those little sponge cakes in the store they have by the Strawberries) and made my first layer on the bottom of the jar. Then I topped that with some of my Strawberries. Then on top of that I placed some Cool Whip.

For my next layer I cut up a slice of Pound Cake – I wanted a different flavor layer in there for fun. but you can just use either the Strawberry Shortcake Shell for both or Pound Cake for both layers or even Angel Food Cake – your call.  Then top with Strawberries again and Cool Whip. Finish it off with a whole Strawberry on top and that is it.

Add a nice ribbon or material strip around the jar and you are ready to serve them up. You can cover them with the cover or leave open, but it is one fun presentation for those eating them and my kids loved them !!
This project was reprinted courtesy of The Party Animal. Check out her site for lots of party ideas  and supplies.
Contributor

ThePartyAnimal.org
If you are looking to have a party to remember then thepartyanimal.org is the right place to come.