Summer Olympic Garland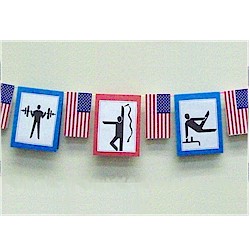 The Olympics are coming and all over the world people will be celebrating the games. Start the celebration with your own Summer Olympic Garland. If you are planning your own backyard or class Olympics or hosting a party, set up a garland with Olympic symbols and flags from your favorite countries.
Supplies
Cardstock
Construction Paper
Scissors
Glue Stick
Cord
Instructions
Click on Printables and print out the Olympic symbols and flags on Cardstock. Then glue on pieces of construction paper and fold over your cord. glue the two halves of construction paper together so they stay on the cord.
We have supplied you with some of the country's flags and provided you with a link to even more: World Flags.
It's a great time to learn about the participating countries and their customs.
Patterns, Templates and Printables
Click on a pattern to open it in a new window
Tags easy Olympic craftsOlympic crafts for kidsOlympic themed crafts for kidsPrintable Olympic decorations