Spooky Black Spider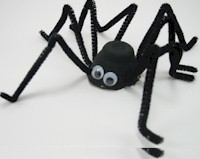 Supplies
1 segment of an egg carton
4 black pipe cleaners
2 google eyes or similar
black paint and paintbrush
glue and scissors
Instructions
Paint egg carton segment black. Allow to dry.
Cut each pipe cleaner in half, creating total of 8 segments.

Bend pipe cleaners once in half, and gain 1/2 inch from bottom to create feet".
Pierce carton segment in 8 locations and insert "legs", twisting off inside the segment to fasten.
Glue on google eyes.
This craft was reprinted courtesy of kideas.com
Contributor

Kideas
At Kideas, you'll find crafts, recipes, party ideas, and activities for children of all ages. Everything on the site is 100% free for use by parents, teachers, scout leaders, and child care providers.