Ghostly Halloween Bag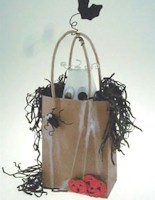 Beware of the little ghost waiting to "spook" you as you pass by its brown bag hiding spot. The ghost will also keep your room freshly scented as it is made from a Renuzit® air freshener.
Supplies
The Dial Corporation Renuzit® LongLast® Adjustable Air Freshener*
Woodsies®:
Teardrops: 2 small (3/8" x 7/8")
Pumpkins: 1 large (1 3/8"); 1 medium (1")
Holly Leaves: 2 medium (5/8" x 1 1/4")
Acrylic paint: Titanium White, Tangelo Orange, Lt. Cinnamon, Ebony Black
Wire: 15" length of 22 gauge black
3" length of 24 gauge lt. green
12" length of 22 gauge white
5 1/2" tall x 4" wide x 2" deep brown paper bag with 3" handle
Black paper crimps
Wiggle eyes: Two 20 mm oval; two 5 mm round
Small amount white spider web
Glue gun & glue sticks
craft glue
paintbrush
scissors
sand paper
pencil
black marker
Optional:
10" x 12" piece of Con-Tact® paper
10" x 12" piece of light-weight cardboard
stapler
Instructions
GHOST: Lightly sand Renuzit® topper to roughen surface, and paint with 2-3 coats of Titanium White. Let dry between coats. To elevate ghost, hot glue base of air freshener to top of a used spray can lid (such as a hairspray, deodorant or spray paint lid).Optional: To cover top end of Renuzit®, cut a 1 1/4" circle from white felt and glue to top of topper.

FACE: Refer to photo for placement and glue oval wiggle eyes to Renuzit® with craft glue.

For hair, use craft snip to cut three 4" lengths of white wire. Curl by wrapping wire around pencil. Remove from pencil. Use hot glue to glue one end of each wire into ridge on top of Renuzit® and arrange as desired.

PUMPKINS, SPIDER & BAT: (Optional, for ease in painting Woodsies®, use stapler to attach Con-Tact® paper, sticky-side-up, to cardboard. Remove the release paper and position all Woodsies® onto the adhesive side of Con-Tact® paper with approximately 1/4" between each piece and 1" between each color.) Paint Pumpkins Tangelo Orange and stems Lt. Cinnamon. Paint Teardrops and Holly Leaves Ebony Black. Let dry.

For pumpkins, referring to photo, draw face details with black marker. Cut two 1 1/2" lengths of lt. green wire and curl. Hot glue one wire to back of each pumpkin at the stem.

For spider, glue 5 mm wiggle eyes to rounded end of one Teardrop. For legs, cut three 3" lengths of black wire. Twist wires together in center and crimp ends. Hot glue legs to back of Teardrop. Glue remaining Teardrop to underside, sandwiching legs between.

For bat, overlap pointed ends of Holly Leaves and glue together. Use hot glue to attach one end of 6" length of black wire to bat.
BAG: With bag folded flat, glue spider to upper left corner and Pumpkins in lower right corner.

Gently pull web apart and stretch across front of bag from top to bottom.

Curl wire attached to bat around bag handle.

Open bag and set Renuzit® inside. Lightly stuff bag with black crimp, allowing fragrance to flow freely from air freshener.
This craft reprinted courtesy of the Dial Corporation.
Contributor

Renuzit