Smelly Socks Potpourri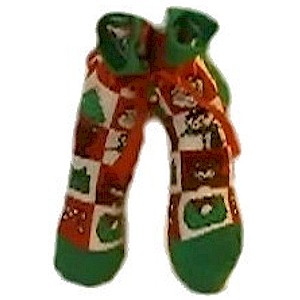 This Smelly Socks Potpourri is an easy gift the kid's can make for Dad on Father's Day and Mom will appreciate it too. Make sure they pick a potpourri that Dad will like, like a woodland or ocean smell.
Trivia: Potpourri is a mixture of petals and spices that can be put in a sack and placed in a draw or closet to make everything smell good.
Supplies
Printed decorative socks
Matching ribbon
Potpourri or Lavender
Spoon
Instructions
To make this Smelly Socks Potpourri craft take one printed sock and using a spoon, spoon in the potpourri.
Work it down into the toe of the sock.
Keep spooning in the potpourri until the sock is tightly filled.
Allow a small amount of sock to gather and tie off with.
Using a rubber band, secure off the top and tie some ribbon around it.
Do this for both socks so you have a pair of smelly socks!
Contributor

CraftBits
Our website was created by a mother and daughter team, adding a unique combination of crafting qualities and expertise of creativity. We started our website after numerous years in the area of craft, teaching, retail craft and owning a gift store. We decided to launch it to provide resources for teachers, therapists, and craft enthusiasts in the year 1999. Since then, the website has grown tremendously in terms of content and resource information.