Paper Chain Flag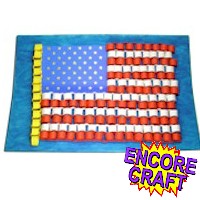 June 14th is Flag Day and we've brought back this fun craft for the old favorite paper chains. Kids can make their own Paper Chain Flag or it can be expanded and used as a project for the whole class.
Trivia: Flag Day is not an official holiday, but was established in 1949 when President Truman signed an act of Congress designating June 14th as National Flag Day.
Supplies
Scissors
X-ACTO Stapler
Red, white and yellow (or gold) construction paper, cut into 1-inch by 3-inch strips
Fifty gold stars stickers
Elmer's Washable School Glue Stick
Elmer's Squeeze'n Brush
Elmer's Foam Board
Instructions
Paint the Foam Board blue. Use Elmer's Squeeze'n Brush to paint the background for the flag. Set aside to dry.
Have students staple the red, white and yellow strips into loops, chaining them as you go. You'll create one chain of 12 links in yellow; 3 red and 3 white chains of 27 links in each; and 4 red and 3 white chains of 15 links in each.
Glue the yellow chain down the left side of the blue Foam Board. This will resemble a pole. Use Elmer's Washable School Glue for this step.
Glue the red and white chains in place. Use Elmer's Washable School Glue Stick to attach the red and white chain stripes to the Foam Board. Alternate red and white chains as you work down from the top, starting with a short red chain at the top and ending with a long red chain at the bottom.
Allow project to dry. Lay foam board flag flat so the glued chains can dry in place.
Contributor

Elmers