Santa Crackers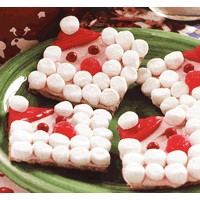 Kids will enjoy making these jolly Santa Crackers as a treat for Santa himself or for all the hungry little elves at your holiday table.
Supplies
Graham crackers
Pillsbury canned vanilla frosting
Red and rose food coloring (we used paste)
Mini Red Hot candies (eyes)
Red gumdrop (nose)
Mini marshmallows
Instructions
We frosted the entire cookie with "pink" (use rose colorant) frosting. We snipped off the corner of a zipper lock bag and put a dab of "red" frosting on one corner of graham cracker, then using a small butter knife, spread the frosting to make the hat and while frosting was still moist, we added one mini marshmallow for tassel.
We then added mini marshmallows for the beard, red-hot candies for the eyes and red gumdrop for the nose. If frosting dries out before you can add the accessories, just gently pat with a wet finger. Simple and easy craft for the kids!
Contributor
SheKnows.com
Founded in 1999, SheKnows.com, the web for women, covers everything for the everyday women. With exclusive articles and content on pregnancy, parenting, health, hobbies, home décor, money management, crafts, weddings, fashion and celebrity gossip, Sheknows is the new source for women. Serving as the hub for a family of web properties targeting women, SheKnows is currently one of the top Women sites on the web.