Ribbon Fish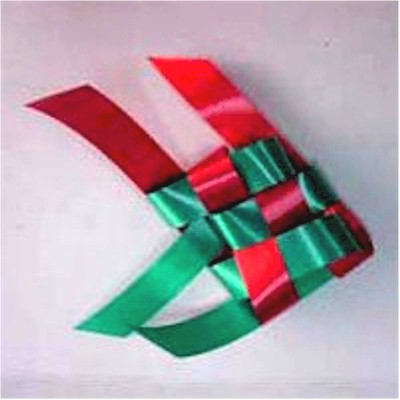 This delightful Ribbon Fish craft can be used to decorate packages, cards, clothes or make several to string up as a mobile. Choose colors to match the holiday or make it monocromaticly classic.
Supplies
2 Strips of ribbon 20 inches long 1/2 to 1 inch wide
Glue
Instructions
Fold the two lengths in half. Insert the green into the red as shown below.
Flip the top red length down out of the way. Take the back green length and spiral it around the back red.
Take the front red, go over the top green ribbon from the front, continue behind and down through the loop you just made in the center.
Bring the same red around the bottom green from the back and weave it back up into the same green loop. Tighten the weave until you see the 2 X 2 checkerboard pattern.
Angle your fish (double entendre intended) so all the ribbon tails are toward your right. Take the bottom green and create a new loop toward the front on the bottom; weave the tail back up through the red it comes from and continue to the back, exiting in the middle row (leaving the new loop open to be used later).
With the upper green tail, create a similar new loop toward the front and going under the bottom red tail and over the top (skipping the middle section, where there isn't any ribbon yet and again leaving the new loop open to be used later).
Weave the top red tail toward the back (locking the top of the loose green tail created in #6) ending on the left. Weave the bottom red tail around the back and through the two green loops you created in the last two steps.
Notice that the fish's nose is now facing right. Secure the bottom green tail by weaving it through the front bottom row. Cut the fish's fins at an angle or into forked shapes.
A dab of glue on the stress points (i.e. the nose and where the fins exit) will help the fish hold its shape. You're done!
Other Images
Click on an image to open it in a new window
Contributor

The Artful Crafter
After spending years as first a teacher and then as a VP of Finance for a major corporation, I took early retirement to devote time to my true passion, crafting. I own a small craft store, do custom orders and run The Artful Crafter website.