Make Black Eyed Susans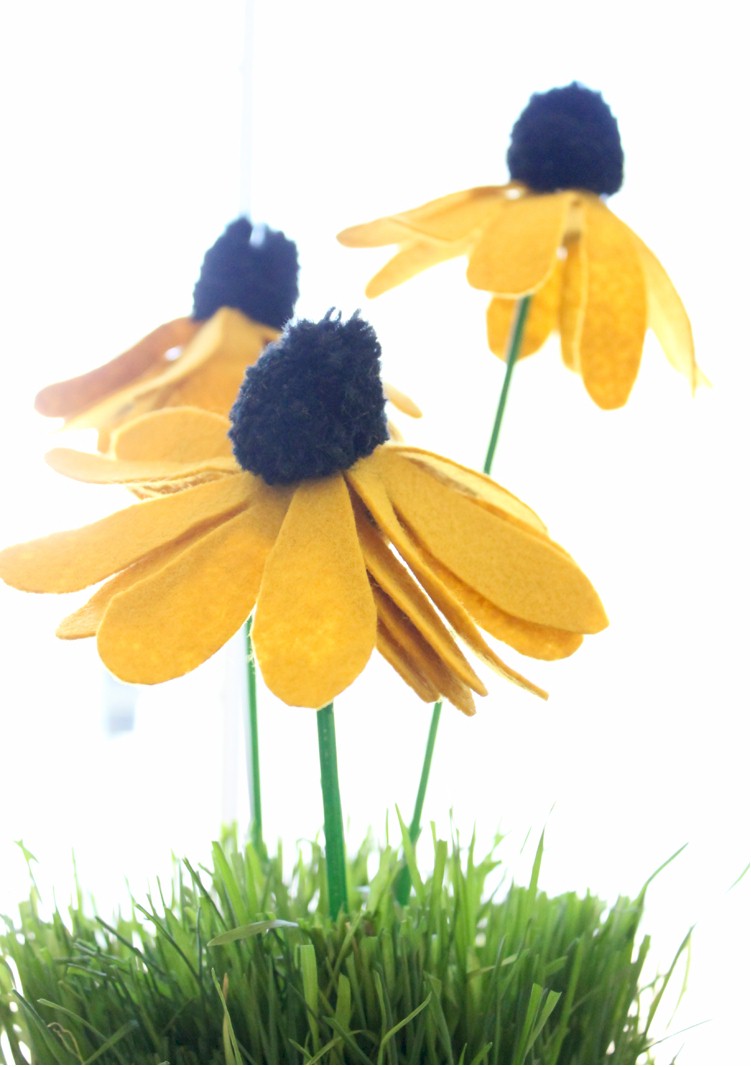 Learn how to Make Black Eyed Susans for yourself or someone special. These beautiful flowers will make a beautiful table favor or a gift for Mom on Mother's Day and don't forget Grandma on Grandparent's Day.
Supplies
Mustard  Yellow 80/20 wool felt
Fabric marker or a marker/pencil that matches felt
Black yarn
Scissors
Hot glue and glue gun
Green paint
Bamboo skewers
Instructions
First, prepare your stems.
Using craft paint, I applied a fast coat to the bamboo skewers. It dries fairly fast.
Second, make your pom flower center. You start out the same as with any yarn pom.
– Use three fingers to make your pom the right size.
– Wrap the yarn around until you get a nice dense, thick bunch.
– Cut a piece to tie around it. Wiggle it in between your fingers and tie it  tight around the wad of yarn.
– After your first knot, slide it off your fingers. Double knot on both         sides.
– Cut the loops.
– Now trim it down (except for the tails or the yarn string you used to tie the pom together). You normally want to trim it down to a ball, but for our Black-eyed Susans we need more of a dome shape. Simply trim to get the shape you desire. Shake it out (more stray yarn will fray out) and trim again until it looks even.
– Keep the tails of the pom. We need them for just a bit longer.
*Tip: As you can see, this makes a big mess. I trim my poms over a trash can (except for pictures ha!). This saves a step.
Next, create your flower petals.
– Trace the pattern with a washable fabric marker or an almost matching colored pencil. I chose the colored pencil so I wouldn't have to rub the marker out later.
– Cut out two flowers per Black-eyed Susan (you can also just use one flower, an example of how it looks with one is shown at the end). ** After you cut it out, you can trim a little further toward the middle if you like. I did.
– Snip a tiny hole in the center. String the tails of your pom through the holes of each flower.
It's time to add your stem and bring it all together.
– Tie a fat knot with the pom tails. Snip off excess.
– Snap some of your bamboo skewers off. You don't have to, but I did to create variations in height between my flowers. For the round poms I snapped off the pointed ends because they were going into a vase. For the Black-eyed Susans, I snapped off the blunt end because I was sticking them into a bed of wheat grass.
– Add a generous amount of hot glue to the back of the flower and put the splintered end of your skewer in it. Hold it in place until it dries.
– Cut a small-ish circle of felt to slide up underneath it. This hides the glue and helps push the flower petals up and out so it looks like a…
Black-Eyed Susan!
You can see that I used one set of petals, instead of two, in one of these flowers. I can't decide which look I like better…. I guess they both work. :)
I put mine in a little bed of wheat grass. You could also put them into a vase, on a present in lieu of a bow, in a larger arrangement with other felt flowers, or whatever your heart desires!
Patterns, Templates and Printables
Click on a pattern to open it in a new window
Other Images
Click on an image to open it in a new window
Contributor

Delia Creates
I'm Delia and I blog at www.deliacreates.com. I am a crafter, sewist, photographer, crocheter, and general DIY-er. I have three kids who I love to create for and with. They are often my inspiration and my muses. I even have a section of my blog dedicated to them, call Kids Create: http://www.deliacreates.com/kids-create.