Jamacian Bandanna Belt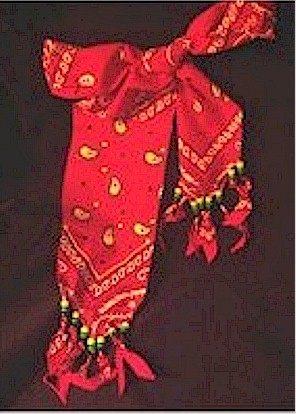 Craft a taste of the Islands with this very fun and funky Jamacian Bandanna Belt. Teens will enjoy wearing it with their jeans too.
Supplies
Red bandana
Fiskars® Scissors
Fiskars® Pinking Shears
DecoArt® So Soft® Fabric Paint – Bright Yellow, Bright Green, Black
Tacky Glue
Pacon® Pony Beads – yellow, green, black
Paper towels
Royal® Kids Choice™ Brushes - Round
Instructions
Fold bandana in a diagonal then fold point to point (click on printables for folding diagrams)
Use pinking shears to cut a 3" strip from the folded edge
Cut a 6" strip from the remaining fabric
Discard remaining fabric.
Cut off ends of 6" strip to create straight ends.
Lay pieces on work surface starting with a pointed end then a small piece another small piece and then the other pointed end – this will create a strip for the belt.
Glue edges together creating a strip.
Use scissors to snip pointed ends about 4" up and ½" apart creating 8 strips. Thread three pony beads onto each strip and tie a knot in the end to secure.
Detail with fabric paint. Referring to photo for reference, detail the printed designs with desired colors of paint. Let dry.
These instructions use glue, but stitching can be substituted if you are capable.
Patterns, Templates and Printables
Click on a pattern to open it in a new window
Contributor
HANDS ON Crafts for Kids
Remember what we all say at Hands On Crafts for Kids, "there's no right or wrong way to crafting…only our way!" We hope that you will join us for Hands On Crafts for Kids – Back to Basics.