Recycled Sunglasses Holder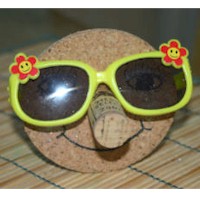 This cute Recycled Sunglasses Holder will be a great inspiration for children to keep their sunglasses where they can find them while recycling some items from around the house.
Supplies
Cork Circles
Wooden spools
Bottle Cork
Black Marker
Sparkles and glitter.
Cool Glue Iron
Instructions
Decorate the circle with a happy face. Include as much detail as you would like. We used only a black marker and some face glitter.
Glue cork to upper center of the cork circle. This will serve as nose and the support for our glasses.
Glue two wooden spools to the back bottom of the cork circle. We placed the spools on their side. This will allow the cork circle to stand upright. And have a stable base.
Add your favorite pair of glasses.
Never search for your glasses again.
Helpful hints
Use a cool glue gun. This style glue gun will produce very warm glue and is much safer than the traditional hot glue guns.
Contributor

Crafty Noodle