Pop-Up House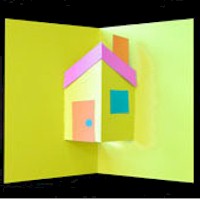 Use this simple design for a Pop-Up House to introduce kids to the pop up world of Robert Sabuda. My grandson became an intrigued when he was introduced to his books at school.
Books you might want to read with this craft:
Encyclopedia Prehistorica Dinosaurs by Robert Sabuda and Matthew Reinhart
Winter in White by Robert Sabuda
The 12 Days of Christmas by Robert Sabuda
Supplies
Cardstock or heavy paper
Scissors
Markers, Crayons, Colored Pencils
Construction paper
Glue
Instructions
Begin with an 8 1/2" x 11" piece of construction paper or card stock. Card stock works best and is easily obtained from any office suppy store.
Fold the construction paper in half to form a card
Draw two lines of equal height towards the fold of the card.
The lines don't have to be perfect as long as they are the same height.
Cut along both lines starting at the folded edge.
Fold the cut section back...and crease well along the edge with your thumb or finger.
Put the cut strip back in it's original position.
Open the card up like a tent.
Using your thumbs, push the cut strip through to the other side of the card.
Close the card...and press firmly.
Open your Pop-up and decorate to match your house!
To decorate your pop-up use pencils, markers or crayons (avoid paint since it will buckle the paper). You can also cut out other paper shapes and attach them to the front of the layer pop-up.
Contributor

Robert Sabuda
Robert works in his studio in New York City that he shares with his partner, children's book creator Matthew Reinhart. When asked about his work, Robert says, "We love making books. It's hard work but the best part is not having to worry about making a mess. When being an artist is your job, you can make as many messes as you want to!"