Recycled Puzzle Bubble Frame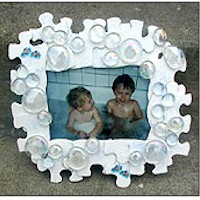 Here's a fun and creative way to frame the kid's bath time fun for Mom or a favorite relative. This Recycled Puzzle Bubble Frame will be fun for the kid's to make and then give as a gift.
Trivia: It is believed that the first picture ever taken was made by Joseph Draper of his sister, Anna Katherine Draper in 1839 in New York.
Supplies
Photograph for framing
Cardboard a little larger than your photo
4 Ice cream sticks
15 Puzzle pieces (will need more or less depending on puzzle piece size)
White & light blue tempera paint
Small piece of sponge
Iridescent and/or clear craft gems in small, medium and large
Small fish stickers
Craft glue
Hot glue
Scissors
Newspaper
Instructions
Prep
Using craft glue, adhere the photograph to the piece of cardboard. Use craft glue to attach the ice cream sticks around the photograph Trim cardboard so that it is just larger than the photograph. Set aside to dry.
Lay newspaper down on table and place puzzle pieces face up. Have the children paint the puzzle pieces white. You may need 2-3 coats for some depending on the darkness of the pattern on the puzzle pieces. Allow to dry. When dry, lightly sponge on light blue paint "here and there" all over the puzzle pieces.
Glue
Using hot glue, adhere the puzzle pieces to the ice cream sticks. Work your way around the frame, be sure that pieces overlap and do not leave any gaps between pieces.
Decorate
After all pieces are glued in place, use hot glue to adhere craft gems around the frame. Alternate large, medium and small gems to look like floating bubbles. Decorate with two tiny fish stickers, if desired.
Hang!
For a simple hanger, hot glue a piece of sturdy string or yarn across the back of the cardboard.
Contributor

Amanda Formaro of FamilyCorner.com
Amanda Formaro is the entrepreneurial mother of four children. She is also the owner of FamilyCorner.com Magazine at http://familycorner.com where you will find recipes, crafts, family activities, parenting advice, home & garden, and plenty more. Be sure to visit the bustling message board community to make some new friends!
Tags easy recycled crafts for kidsgifts to make for Mother's Dayrecycled puzzle crafts