Recycled Jellyfish Windsock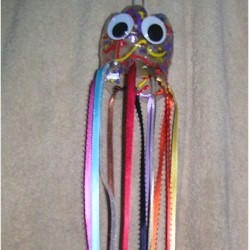 This recycled Jellyfish Windsock is fun to make and recycles for the good of our earth too. It will hang around and remind everyone that there are many things we can do to reuse items we might otherwise throw away.
Supplies
Empty clear plastic soda or juice bottle
2 wiggle eyes
Ribbon
Squeeze Bottle Paint
Instructions
Cut off the top half of the plastic bottle. You will be using the bottom half. Cut edge in a wavy line.
Punch holes all around edge to hang ribbon from.
Poke 2 holes in top and thread a ribbon through. Tie into a knot to form a loop to hang the windsock.
Squeeze some paint inside the bottle to make squiggly lines. Use different colors to make it bright. Allow to dry.
Cut a long length of ribbon for every hole you punched and tie a knot in one end of each. Put each ribbon through a hole, going from inside the bottle so your knot on each will be on the inside.
Glue on wiggle eyes. Hang your jelly fish windsock so the breeze makes it blow.
Contributor

Sudbudz
Want to have some creative family time? Print out our SudBudz® Masks and get crafty with the kiddos! More than just a typical Fizzy Bath Ball, SudPrize® is a first ever line of skin-loving and natural bath products that make bath time Fun for Kids and Easy for Moms. A Free companion App, SudBudz® engages your children into an immersive world of special and unique characters called SudBudz®.