Raindrop Umbrella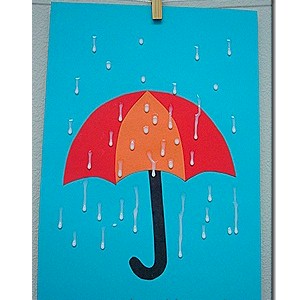 Daylight Savings Time is here and Spring is just around the corner so get the kids in the mood with this Raindrop Umbrella. Perfect project to use to illustrate the letter U. This is an easy craft that the kids will enjoy.
Trivia: Daylight Saving Time – often referred to as "Summer Time", "DST" or "Daylight Savings Time" – is a way of making better use of the daylight in the evenings by setting the clocks forward one hour during the longer days of summer, and back again in the fall.
Supplies
Construction paper
Scissors
Glue
Instructions
To make this Raindrop Umbrella, you need to cut out and assemble your umbrella. Just freehand the parts of the umbrella and cut them out. An adult may need to help with this.
Once you have assembled and glued the umbrella onto the paper and it has dried, add dots of glue all over.
Next, hang the artwork up to dry. This will give you the raindrop effect!
This is a simple craft but will be lots of fun for the kids.
Contributor

Mama-Jenn.blogspot.com
I am a Christian wife and home-schooling mama striving to be a Proverbs 31 woman! I am blessed with 5 kids, including one princess and two sets of twin boys! In my "spare" time I enjoy scrapbooking, though blogging seems to be taking its place. I currently have three main blogs. This is my family/homeschool/craft/everything blog. The Homeschool Resource List is a collection of all the free online resources that I have found for homeschoolers. The "Brown Like Me" Book Review is a collection of books featuring "brown" characters. I also write for Totally Tots, which is a blog dedicated to those with toddlers.