Puppy Love Valentine
The kids will love making and giving these Puppy Love Valentines. This craft is an easy one for little children and a good project for improving their cutting and pasting skills.
Supplies
Aleene's® Paper Glaze
Aleene's® Crystal Clear Acid Free Tacky Spray
Cardstock: Red, White, Black
Permanent Marker: Black
Microbeads: Clear
Scissors
Pencil
Paper: Silver
Making Memories Letter Stickers: Silver
Instructions
Click on Printables and print out pattern. Using photo as a guide, trace all pattern pieces on correct color papers. Cut out.
Spray one side of black hearts with Aleene's® Crystal Clear Tacky Spray™. Turn over and place on top of large silver hearts. Spray one side of large red hearts with Tacky Spray and place on top of black hearts.
Spray one side of small white hearts with Tacky Spray. Press onto small silver hearts.
Place large hearts upside down and on top of each other. See photo. Spray tip of bottom heart with Tacky Spray. Place top heart right on top of sprayed area. Refer photo for placement.
Spray back of one small heart and press right side up in center of top heart for nose. Repeat for heart at chest. See photo.
On remaining 4 small hearts spray tips on backs and press on for ears and feet. See photo.
Draw in eyes with permanent marker. Apply sticker letters below heart on chest.
Apply Aleene's® Paper Glaze to all small hearts and sprinkle on microbeads. Let dry.
Patterns, Templates and Printables
Click on a pattern to open it in a new window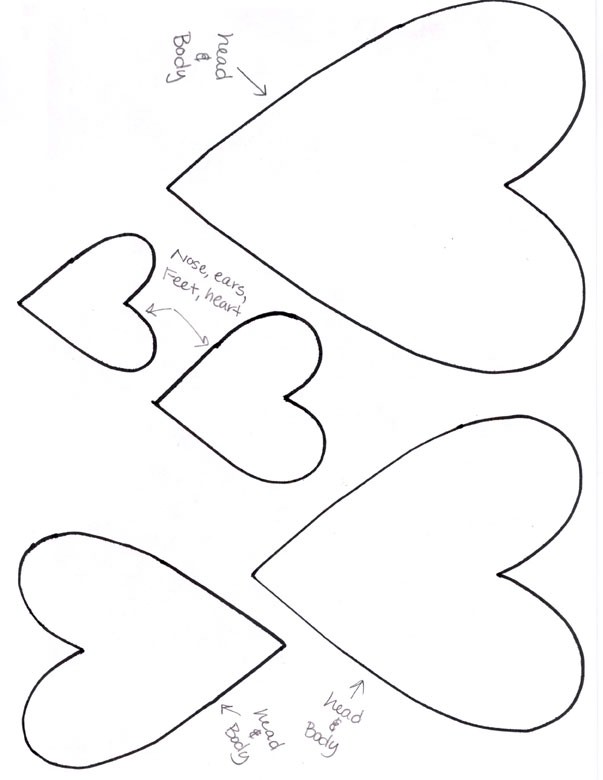 Contributor

ILoveToCreate.com
Where you can explore and share, crafters can play and artists can grow!