Plastic Spoon Puppets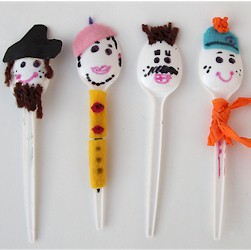 You bought that big box of plastic spoons for your summer picnics and they are just sitting there in the cupboard. Here's a chance to have a little fun making Plastic Spoon Puppets with the kids. This is an easy craft for the kids and just takes some leftover scraps of material for a fun activity.
Supplies
Plastic spoons, soup and dessert are nice to make adults and children
Permanent markers, red and black, medium to fine tip
Yarn, felt, paper, mini pom poms
Double stick tape or all purpose craft glue to adhere yarn, felt and paper
Instructions
Using the picture as a reference create the spoon puppets or create your own original versions using the markers to draw faces and the trim to create hair and accessories.
This craft is reprinted courtesy of CreativeJewishMom where you can find directions for making a Spoon Puppet Theater.
Contributor

CreativeJewishMom.com
Visit me at CreativeJewishMom.com. on the exciting journey of giving greater meaning to the everyday through creativity. This blog is my way of sharing with you the joys of crafting, decorating, cooking, and gardening. I love simple ideas, recycling and quick transformations.