Painted Doily Hearts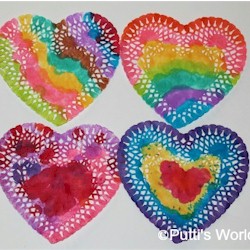 Let the kids try this inexpensive and colorful way to decorate with these Painted Doily Hearts for Valentine's Day. Each child will be able to create different designs with each heart.
Supplies
Heart shaped paper doily
Bingo/Do-a-Dot Markers
Newspaper to protect work surface
Instructions
There actually is no need for any instructions. All you do is cover your work area, and using your bingo daubers or do-a-dot markers color the heart doilies. When working with littlest kids, place a piece of tape that has been formed into a loop on back of doilies and attach to paper. This will prevent your doilies from moving too much while dabbing.
You could use only traditional valentine colors(pink and reds) or create a colorful pattern like a rainbow or just do random colors. They look so beautiful & each one is unique!
And, if you place a white cardstock beneath your doily while dabbing it with marker - you will get yourself a nice, colorful doily print on the cardstock! Its two art for one, which is lovely. And the print itself can be used as a lovely card for someone special.
You can hang them up as wall decorations, display them on your windows, or you can use them to make cards (just glue onto paper) or make a garland. Whatever you decide to do with them, one thing is for sure - they will be a hit!
Putti wanted to make a garland and I don't blame her, we do love buntings here in our house and make them almost for every season. You could just string them as it is. I wanted to spell 'LOVE' so stuck Alphabets Foam Stickers on the doily.
Contributor

Putti Prapancha
Roopa Shri Mother of a loving little preschool girl, Putti who is the inspiration and very reason to start her blog - Putti Prapancha. It is the place where she share all her fun activities and creative play.