2018 Printable September Coloring Calendar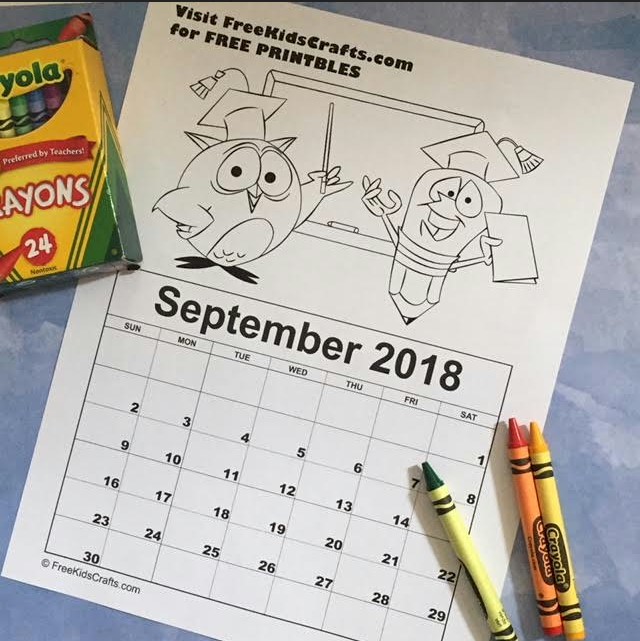 September is Back to School time and time for the seasons to change into their colorful best. We've created this printable 2018 September Coloring Calendar to help you keep your homework and chores organized and the fun times too. You know Mom, you might need one too!
Here are some dates to get you started:
September 2 Australian and New Zealand Father's Day
September 3 Labor Day
September 9 Grandparents Day
September 9 Rosh Hashanna
September 18 Yom Kipper
September 19 Talk Like A Pirate Day
eptember 21 International Day of Peace
September 22 First Day of Autumn
September 28 Native American Day
Supplies
White Paper
Crayons, Markers or Colored Pencils
Instructions
Seat the kids at a comfortable work table and supply them with their favorite coloring medium. Then turn them loose to create their own personal calendar. For younger children you may need to help them write in their own special dates.
Patterns, Templates and Printables
Click on the calendar below to open it in a new window to print

Supplies
Instructions
Contributor

Sudbudz
Want to have some creative family time? Print out our SudBudz® Masks and get crafty with the kiddos! More than just a typical Fizzy Bath Ball, SudPrize® is a first ever line of skin-loving and natural bath products that make bath time Fun for Kids and Easy for Moms. A Free companion App, SudBudz® engages your children into an immersive world of special and unique characters called SudBudz®.