Pony Bead Pencil Pattern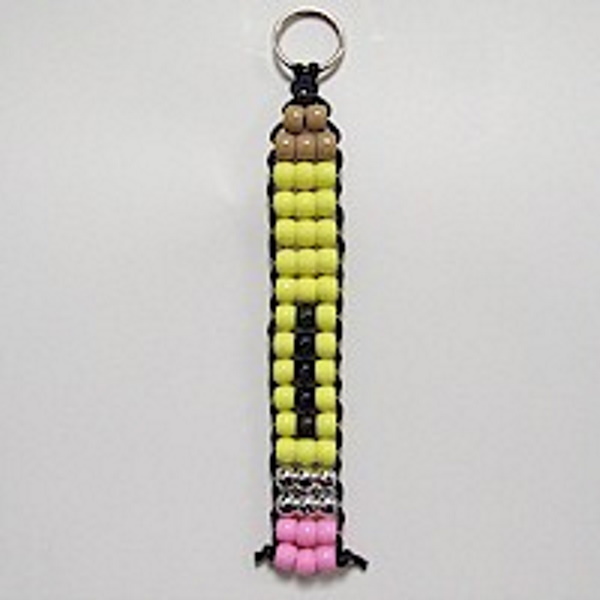 Here is a Pony Bead Pencil Pattern that will show you the way to create this beaded pencil to hang on your backpack. Once you have mastered the pattern be sure to share it with all your friends or make one as a gift for them.
Trivia:
Unlike European artwork designed to stay in place and decorate a room, the nomadic nature of the Native Americans necessitated a combination of design and functionality. Their bead-based art existed in clothing, everyday objects, and their tents and horse tack. Source: Pow Wows – Native American Beadwork
Supplies
Key Ring or Lanyard Hook
5′ of Cord
6 Black Pony Beads
5 Tan Pony Beads
6 Pink Pony Beads
6 Silver Pony Beads
28 Yellow Pony Beads
Instructions
Stiffen the ends of the cord with white glue. Let dry.
Tie a lanyard hook or key ring to middle of the cord.
On the right hand cord string on one black pony bead. With the left hand cord go through the same bead in the opposite direction. Pull on both cords, tightening the beads up close to the key ring. Repeat with the second row, stringing on 2 tan pony beads. Continue weaving using the photo as a guide.
Tie off each cord close to the last bead.
Dab a bit of white glue on each knot. Let dry. Trim.

Supplies
Instructions
Contributor

Sudbudz
Want to have some creative family time? Print out our SudBudz® Masks and get crafty with the kiddos! More than just a typical Fizzy Bath Ball, SudPrize® is a first ever line of skin-loving and natural bath products that make bath time Fun for Kids and Easy for Moms. A Free companion App, SudBudz® engages your children into an immersive world of special and unique characters called SudBudz®.