Plastic Egg Duck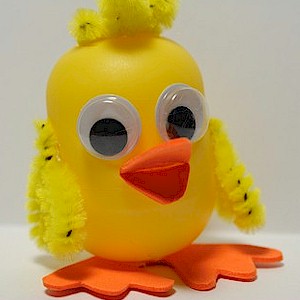 Easter and spring are a perfect time for kids crafts featuring ducks, chicks and lambs. The cute Plastic Egg Duck is sure to be a favorite with all the kids and it takes only a few simple craft supplies to complete.
Trivia: A family of ducks is called a brace of ducks or a flush of ducks. An adult male duck is called a drake while an adult female duck is called a hen or a duck.
Supplies
Empty Kinder Surprise container
or Plastic Egg
Craft foam (orange)
Pipe cleaners (yellow)
Googly eyes
Scissors
Glue
Instructions
To make this Plastic Egg Duck we will start with our beak and feet. Use the orange craft foam and cut out a pair of feet. We decided to leave the two feet attached for easier gluing, and he stands a little better.
Cut out a beak, be sure to leave a lip on the bottom of the triangle. This will fold and create the top and bottom of its beak.
Cut out two lengths of your yellow pipe cleaner - approx 2 to 3 inches in length. Bend each of these into an M shape.
Cut a small length of the pipe cleaner and bend it into a W type shape. This will be a little feather for its head.
Glue your feet to the bottom of the kinder container. When gluing to plastic sometimes regular white glue can take a bit to set, if time is a constraint use a hot glue gun (with supervision).
Fold the beak in half. We found that scoring the bend helped it stay better. Glue this in the center of the kinder container (be sure it still opens).
Pick out two googly eyes that are a nice size for your duck. Glue them above the beak.
Take your two M shaped pipe cleaners and twist the ends together. This will create your wings. Glue one on each side of your duck.
Take your little feather bunch and glue it to the top of the duck's head.
You might want to fill your little duckling with some Jelly Beans as a special surprise.
Other Images
Click on an image to open it in a new window
Contributor

Easy Crafts For Kids
Join the Crafty Critters over at easy-crafts-for-kids.com for tons of easy crafts with simple step by step instructions. Stop by and meet the critters!