Washcloth Easter Bunny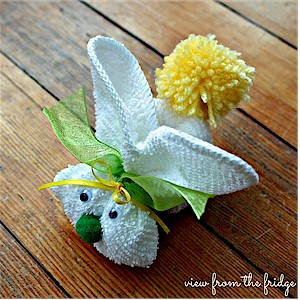 This Washcloth Easter Bunny would be a fun favor to make for a party or a baby shower. Teens will get into the spirit of making a colony of these for any festivity. You might even consider making these as a fundraising idea.
Trivia:  Did you know, a male rabbit is called a 'buck', and a female rabbit is called a 'doe' and a group of rabbits is known as a 'colony' or a 'nest'.
Supplies
Washcloths
Ribbon or Baker's Twine (or both!)
Glue on eyes
Small Pom Poms for the noses
Larger Poms OR yarn for the tail
Glue
Instructions
To make this  Washcloth Easter Bunny, start with the washcloth laying flat.
From one corner, roll half the washcloth into the center
From opposite corner, roll the other half of the washcloth into the center
Fold the washcloth in half as shown
Grasp the washcloth near the center
Wrap your fingers around the center, and Fold the loose ends back
Grasp the washcloth about an inch from the fold you just created.
Tie a ribbon around the washcloth where you were just holding it
Add an accent ribbon (optional)
Add nose (small pom) and eyes (glue 'em on)
Add tail (large pom) OR make tail pom with yarn
You might hang a little bag of jelly beans from the ribbon around the bunny's neck as an added treat.
Other Images
Click on an image to open it in a new window
Contributor

View From The Fridge
Katie is the writer and creator of View From The Fridge. She is also the mom to two adorable little boys (and another baby on the way), and wife to a great guy! She loves to craft, decorate, dream up projects for her home, and she's learning to love to cook (though not there quite yet). She started View From The Fridge in the fall of 2013. Katie also enjoys coffee, a good glass of wine or beer (when she's not expecting!), running, and anything outside. She lives in Minnesota and takes full advantage of the wonderful (but short) summer season outside with her family.